Пазарувате ли от китайските сайтове за джаджи? Аз го правя често.
Последната ми придобивка е едно 7-инчово таблетче за четири годишната ми дъщеря, което ме изненада с параметрите и цената си – Ainol Novo 7 Fire.
Таблета ми излезе 104 долара, като намерих валиден купон код за 8% и го вкарах при покупката.
Изглежда така:

Параметри на устройството
Ainol Novo 7 Fire Features:
OS: Android 4.0.4 support Android 4.1 Jelly Bean Update
CPU: Dual Core AMLogic AML8726-M6 1.5GHz
GPU: Dual Core Mali 400*2 3D
RAM: 1GB,DDR3
Storage 16GB
Shell Material: Metal
Bluetooth: Yes Bluetooth 2.1
Screen: Capacitive Touchscreen, 1280*800 IPS High-resolution Screen
Size: 7 inch
Resolution: 1280*800 Pixels
Visible Angle: 180°
Display: IPS
Gravity Sensor: 3 Axis
Flash: Support Flash and HTML 5
Google Play (Market): Yes
Dual Camera: Front 2.0 Megapixels,Back 5.0 Megapixels Auto Foucus LED Light
Ainol Novo 7 Fire Tablet PC Details
Extend Card Support TF card up to 32GB extended
Multi-Touch Yes, 5 points touch
Android Market Yes
Skype Yes
Email and Browser: Yes, built in
WIFI: Yes, 802.11 b/g/n
3G : Not built in
Earphone Interface 3.5mm
Video 1080P, AVI/MOV/MP4/RMVB/FLV/MKV…
Music MP3/WMA/WAV/APE/AAC/FLAC/OGG
Ebook UMD, TXT, PDF, HTML, RTF, FB2…
Battery : 3.7V 5000 MAh 18.5Wh
Tablet Weight: 333g
Tablet Size: 186.7*126*10.6mm
Съдържание на пакета:
1 x Ainol Novo 7 Fire
1 x USB cable
1 x 5V 2A Charger + адаптер за европейски стандарт 220V
1 x Стерео слушалки
Направих и тестове с две от популярните програми за бенчмарк:
Quadrant Standard Edition – link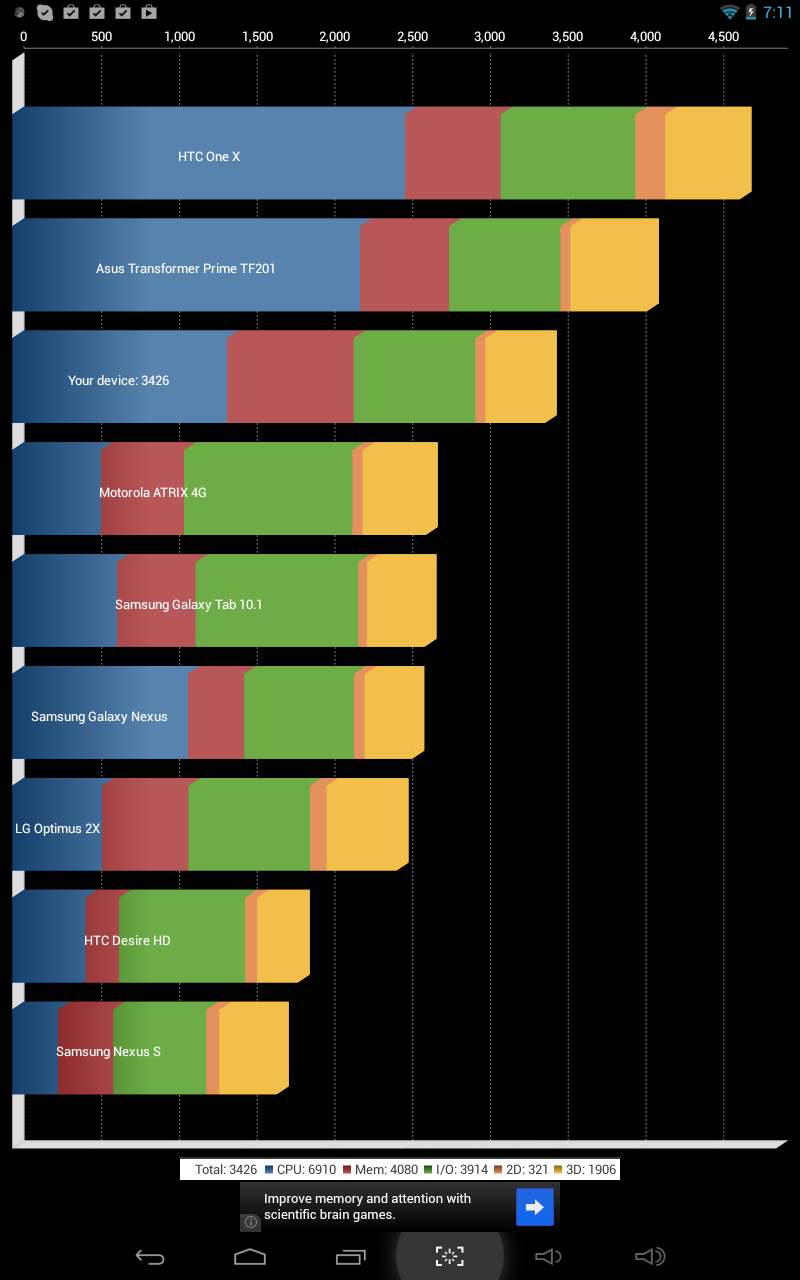 AnTuTu Benchmark – link


Въпреки ниско бюджетната ниша тестовете представят таблета на едно много добро ниво. Външно също мога да кажа само добри думи – стабилен алуминиев корпус, страхотен дисплей с яко покритие, удобно разположени копчета и допълнителни входове.
По време на игра таблета заби 1 път на някаква игра "Cordy". Наложи се да рестартирам таблета, като задържа за няколко секунди бутона за включване.
Иначе таблета като цяло се държи отлично. Сложих му доста игри и приложения, които издърпах от Google Play. Едно от готини приложения е WiFi File Transfer, което ми позволява да влизам във файловата система на таблета през браузера и да манипулирам файловете както си искам.
Малко снимки и от дектопа:

За тия пари (по-малко от 160 лв) джджката е просто перфектна!
Да и е честито на дъщеря ми и дано изкара поне няколко месеца :)!